Press Contact: Jeremy Cherson, Director of Communications
FOR IMMEDIATE RELEASE:
(ANN ARBOR, MICHIGAN) – Ohio had a chance to pass bipartisan pretrial reform last year, but fumbled. Now, Michigan has the opportunity to become a leader of pretrial reform in the Midwest and across the country by passing HBs 4655–4662. A coalition of student groups from the University of Michigan – an alma mater of House Speaker Joe Tate – including Students 4 Decarceration, the American Civil Liberties Union of the University of Michigan, The Michigan Institute for Progressive Policy, as well as The Bail Project are together calling on Tate and the Michigan legislature to pass the package of bills that would bring comprehensive reform to the pretrial system in the state. Bus signs, digital and print ads, posters, flyers and a mobile billboard driving around Michigan Stadium on November 25 are among the coordinated actions aiming to drive home the urgency of this legislation.
HBs 4655–4662 would establish a uniform pretrial decision-making framework; guarantee due process protections for people charged with a crime; introduce the right to speedy trials; and create a statewide pretrial services system. HB 4655, for example, would require judges to release people charged with low-level, non-violent, non-sexual offenses without cash bail to await their trial at home, unless there is clear and convincing evidence that a person poses a risk to the community or of intentionally fleeing prosecution. In turn, HB 4657 would establish a statewide pretrial services system that would include court reminders, transportation assistance to court, referrals to treatment for mental health or substance use, and referrals to educational or job assistance programs.
In passing HBs 4655–4662, Speaker Tate and the legislature would prove that Michiganders know how to follow the evidence. Research shows that reduced reliance on cash bail improves public safety through lower rearrest rates. And through The Bail Project's model of Community Release with Support, our clients return to over 91% of their court dates, proving that the provision of services for people post-release effectively ensures their return to court.
Tate and the legislature would also be standing up for the thousands of legally innocent Michiganders behind bars who have been underserved by the current pretrial system. The population of people held in pretrial detention has more than tripled in the last four decades in Michigan. And Black Michiganders disproportionately bear the burden of the pretrial footprint of the criminal justice system, comprising 15% of the state population, but 37% of the jail population.
The battle between the Wolverines and Buckeyes is around the corner. With HBs 4655–4662 sitting in the legislature, Michigan can prove itself a winner in more ways than one.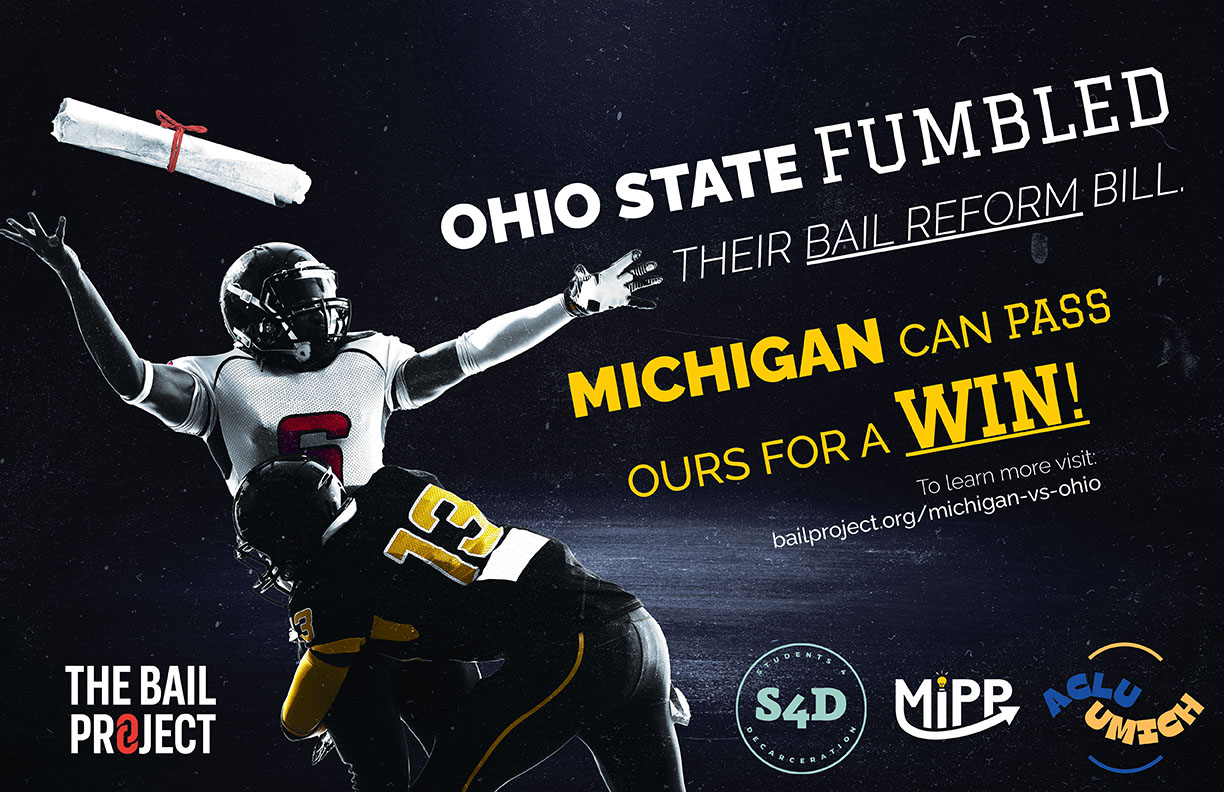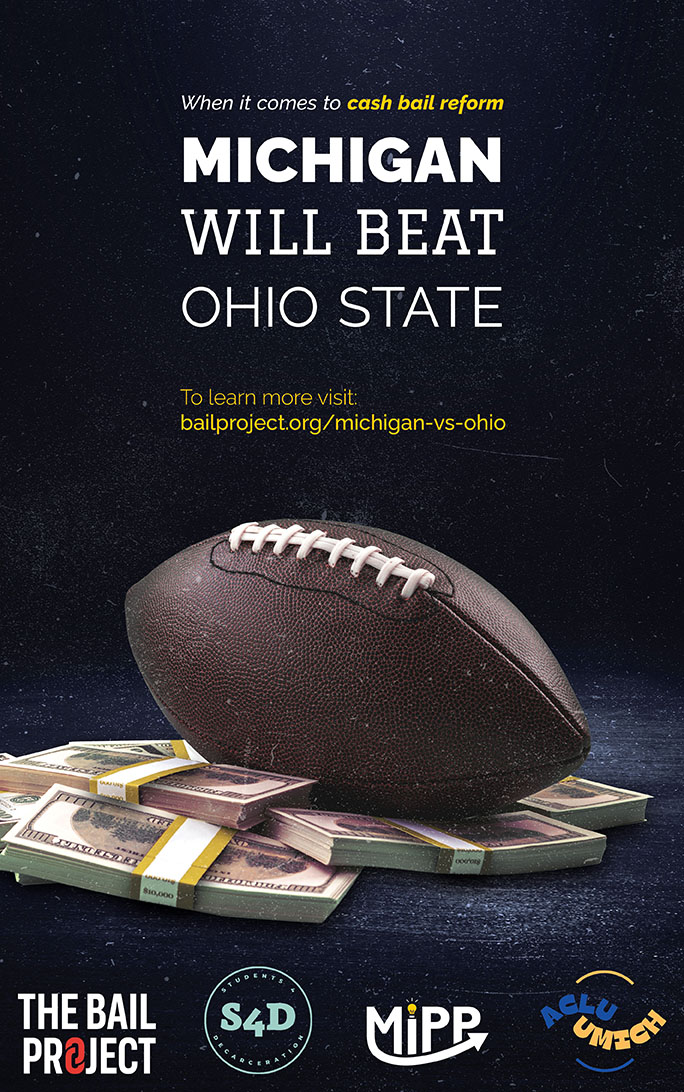 Examples of ads to be displayed on University of Michigan campus
"Michigan has a growing incarceration crisis. HBs 4655–4662 could change this tide by reducing our overreliance on cash bail, shrinking the number of people held behind bars and closing the loop of poverty and incarceration," said Daphne Kaplan, President of Students 4 Decarceration, a student organization at the University of Michigan that seeks to end inequities in the criminal justice system.
"House Speaker Joe Tate has stated public safety is a top priority. Public safety looks like HBs 4655–4662. With due process protections, services that connect people to transportation and housing after release, and a reduction in cash bail, the package of bills would ultimately create safer, more stable communities," said Nicole Wan, Co-President of the American Civil Liberties Union of the University of Michigan, the undergraduate chapter of the national civil liberties organization.
"For too long our criminal justice system has been overly punitive to the detriment of our communities. Opponents to cash bail reform may say that it's in the interest of community safety, but making bail dependent on a defendant's wealth doesn't make our communities safer. I've read both bills and there are plenty of safeguards in place to ensure those released on bail don't pose a safety risk. That is why I am urging Michigan House Speaker Joe Tate to do what is best for our state and pass HB 4566-4662," said Timothy Marvin, Co-President of The Michigan Institute for Progressive Policy, a student-run organization at the University of Michigan that seeks to research, write, and advocate for progressive policies.
"The cash bail system creates a two-tiered system of justice that forces people in poverty to languish behind bars because they cannot afford the price of their freedom. HBs 4655–4662 would bring about necessary and meaningful change to the pretrial system as a whole and affirm Michigan as the champion of cross-party criminal justice reform in the Midwest," said Nicole Zayas Manzano, Deputy Director of Policy at The Bail Project.
PHOTO: flickr Ken Lund CC BY-SA 2.0
Thank you for your valuable attention. The urgency and complication of the cash bail crisis requires meaningful participation to create real change – change that is only achieved through the support of readers like you. Please consider sharing this piece with your networks and donating what you can today to sustain our vital work.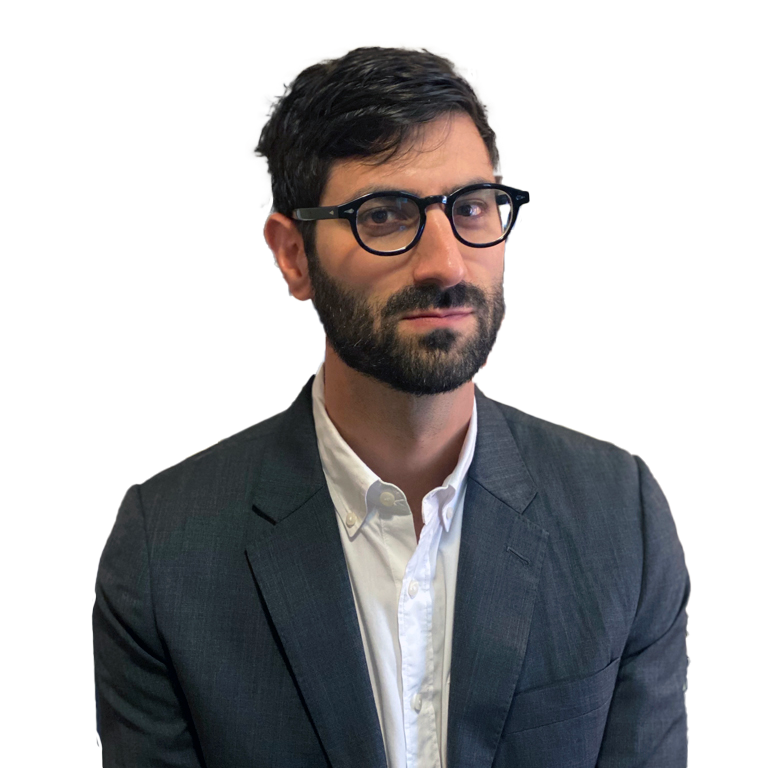 As the Director of Communications and Publications, Mr. Cherson directs the organization's communications, earned media and public relations, internal communications, and publications strategies. With more than fifteen years of experience in criminal justice reform, community-based research, government operations, and research and project management, Mr. Cherson joined The Bail Project in 2020 as the Senior Policy Advisor, where he helped develop the organization's policy team and oversaw several state and local-level advocacy campaigns. Before The Bail Project, Mr. Cherson served in several positions within the de Blasio administration at the New York City Mayor's Office of Criminal Justice, where his work included the development of the Mayor's Action Plan for Neighborhood Safety, a citywide community safety intervention grounded in the principles of participatory justice and where he also led the DOJ-funded Smart Defense Initiative to improve the administration and oversight of New York City's Assigned Counsel Plan. He received a B.S. in film and television from Boston University and an M.P.A. in public and nonprofit management and policy from New York University.