It was a warm evening in June 2020 and the sea of protesters who had gathered in downtown Louisville's Jefferson Square Park were restless and the frustration on their faces visible.
Some of the protesters were young adults who had spent months rallying for racial justice and demanding accountability for the police killing of Breonna Taylor. Others were adults who had personally experienced discriminatory policing and were fed up and angry.
After spending countless days and nights demonstrating alongside fellow neighbors and friends, Bruce Sweeney worried their calls for change were being ignored.
"I seen the kids' faces, and it made me sad," he said.
"There were a lot of people out there traumatized and hurt. We had nothing to do."
Sensing the mounting tension and despair, Bruce came up with a plan: He'd get protesters to play basketball as a way to help them cope with stress and release their frustration.
It may have seemed like an odd idea at first, but it actually made sense given that it came from a man whose passion for basketball and love for community had helped keep him grounded during difficult moments in his life.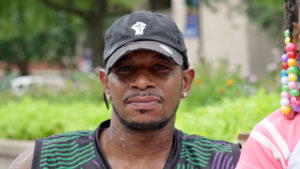 Bruce, a 42-year-old Louisville native, is an easy going guy and a big kid at heart. He grew up in an area of town where violence and poverty run rampant. When he got older, he juggled being a father and working various jobs to support his family. Life was hard and sometimes it got the best of him.  He would get into fights, drive too fast, and generally get in trouble, which led to a handful of misdemeanor charges.
But there was always one thing that could quiet his internal demons and bring him joy. Basketball.
"'I've been in and out of trouble my entire life and I've been locked up more than anybody I know. Whenever I got mad, I would go play basketball," he said.
"It took away my pain."
These days, Bruce's love for his neighbors is obvious to friends and family. He's a proud father, well known around town and friendly to everyone.
He's also a natural leader: Bruce comes from a family of civil rights leaders and activists whose lasting impact in Louisville has been enshrined in its museums and history books.
He had only recently learned about his family's legacy of activism earlier that summer in 2020 when mass protests over racial inequality and police brutality erupted in Louisville and elsewhere across the nation.
"It taught me to keep going," he said.
So Bruce drove home, grabbed his ball and basketball rim and quickly returned. When protesters saw what he brought back, he said their faces lit up.
"Everybody went out to the basketball rim and the kids and adults played till the sun came up," he said.
 
"It relieved our stress and felt like we got a little taste of justice."
That one basketball game soon morphed into daily matches and within a few weeks a community of social-justice oriented individuals passionate about helping youth had taken hold.
This led Bruce to create Breewayy Warriors, a basketball youth league that provides children who live in Louisville's low-income neighborhoods a free and safe space to hang out after school.
There's much need for programs like Breewayy Warriors. Inequality, poverty and violence are common problems for people who live in Louisville's west end neighborhoods.
"Louisville is getting bad for the kids because there's not much for them to do," Bruce said. "There's really nowhere for them to go."
But Bruce never thought he'd have the opportunity to give back to his community the way his family did.
He comes from a family with deep-seated roots in leading Louisville's civil rights movement. His grandfather, Dr. Pruitt Owsley Sweeney, a dentist and businessman, was the son of sharecroppers. He eventually became the president of the Louisville branch of the NAACP in 1937 and rose to become one of the 100 richest Black people of that time. Around 1947, Dr. Pruitt's efforts led to the eventual desegregation of the city's golf courses. In the 1980's, Bruce's uncle, Maurice, became active in local politics and in 1983 was named the youngest local president of the NAACP at the time.
It turned out, however, that Bruce's life experiences made him uniquely positioned to tackle hard-pressing issues.
Bruce is a family oriented and religious man. He's always felt inclined to serve his community. His father is a pastor and Bruce grew up wanting to become a police officer. Every Sunday Bruce went to church with his family and listened to his father's sermons. But at a certain point, Bruce said he started feeling like the black sheep of the family.
"I would always get in trouble and would get so mad so easily that it would take me to another place and it wasn't me," he said.
"I've been locked up more than anybody I know."
Bruce was eager to devote as much time as he could to Breewayy Warriors because he felt he could relate with the kids he'd be helping. He came from the community and empathized with their struggles. He understood their frustrations with the lack of economic opportunity, police brutality, the injustices of the criminal legal system and the prevalence of gun violence in his neighborhood. Most of all, Bruce wanted to provide them with opportunities that he didn't have growing up.
But when Bruce started the basketball program, he was in the midst of dealing with several legal issues.
He had been convicted of two misdemeanors and was sentenced to two years supervised probation when he got arrested again during the local protests and charged with alleged rioting, which he said came about after a fight broke out between local demonstrators and counter-protesters.
The vast majority of local protests had been peaceful, but fights between local protesters and counter demonstrators, including armed militia groups, had taken place despite police barricades and road closures. Protesters also say that on several occasions police had failed to intervene when clashes erupted.
Bruce was among dozens of protesters, many of whom were Black, who had been arrested over the course of the local protests since it began in 2020. In an effort to send a message, police began charging protesters with ever more serious offenses. Curfew violations and refusal to disperse misdemeanor charges were thrown to the sideline and replaced with felony charges such as rioting in the first degree and theft.
The way police arrested and charged dozens of protesters also appeared to be happening at random and reports show that Black people were more often charged with protest-related felonies than their white counterparts, according to media reports and legal aid nonprofits.
"The way [the police department] has charged the protesters has been completely haphazard and almost random," Ted Shouse, a veteran criminal defense attorney who works with The Bail Project told NBC.
"I've never seen anything like it."
Such arbitrary arrests during the protests highlights the very issues of policing that had inspired demonstrators to come out in the first place. The way their charges were processed further illustrates the need for reform. That's because when a person is arrested in Kentucky prosecutors don't pre-screen charges before going to court, leaving many people in legal limbo for extended periods of time.
When Bruce was arrested and taken into jail, he soon realized he couldn't afford to post bail. As a result, he was forced to stay behind bars for several months while his case was pending. He lost his jobs, his car and he knew his family was suffering greatly. He said his daughter and son were concerned for his safety when he went out to protest.  Police had routinely deployed volleys of non-lethal munitions to disperse protesters and they feared he could get injured. They also worried he would get swept up in clashes with armed militia groups or counter-demonstrators. Most of all, however, they missed spending time with their dad.
"My family sat me down at the table and spoke to me about it," he said. "My daughter was having nightmares and worried I would die." 
Bruce also worried Breewayy Warriors would fall apart before he even had a chance to give it his all.
On March 3, 2021, Bruce was released on bail thanks to The Bail Project. He made a promise to himself that day that he would never set foot inside another jail cell again.
If The Bail Project hadn't posted his bond, Bruce said he probably wouldn't have been able to launch Breewayy Warriors because he would have been stuck behind bars until his case was resolved, which took almost one year .
"I thank The Bail Project, Bruce said. "I would still be in jail honestly."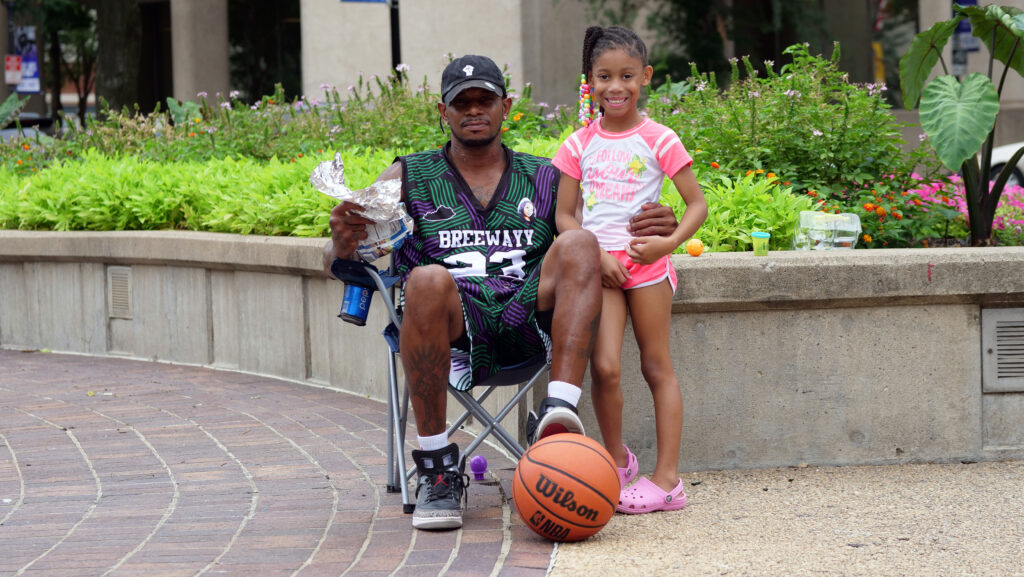 Bruce kept his word and put all his energy into growing Breewayy Warriors. His first step was to find kids who would be interested in joining the basketball league, so Bruce decided to go about it the old fashion way: face-to-face. He rode around on his bike and passed out pamphlets to kids at parks and basketball courts.
"I knew a lot of kids already and they knew me as Coach Bruce," he said "All we do is basketball so it all happened so fast."
Breewayy Warriors is now a little over two years old. There are currently over 70 elementary, middle and high school students who participate in the basketball program. Uniforms, travel expenses and equipment are all provided for free.
Amid rising gun violence and homicides in Louisville, Bruce says the program's mission to tackle inequality, reduce violence and honor Breonna Taylor's legacy is more important than ever. He was reminded of that recently when one of the kids in the program, a 14-year-old boy, was shot and killed in June.
The shooting death of a Breeway Warrior basketball player comes at a time when Louisville has seen a surge in gun violence and a record number of homicides throughout the pandemic years.
Bruce's experience highlights how historically-underserved communities all too often bear the brunt of both bad criminal justice policies and violent crime. Research has shown that socio-economic variables and exposure to the criminal justice system can contribute to higher crime rates in communities. Some of those factors include housing instability, poverty, access to mental health resources, unemployment and arrests for low-level crimes.
The resulting criminal justice involvement is that it exacerbates the very underlying factors that contribute to violence. This creates a seemingly never-ending destructive cycle that spans generations.
"There's really nowhere for kids to go after school but out on the streets," he said.
"Crime is terrible and it seems like everybody has a gun. It has gotten to a point where teachers are even quitting. I never thought it could get this bad."
Programs like Breeway Warriors aim to strengthen public safety by focusing on the wellbeing of his community first, particularly the youth. His efforts in fighting gun violence through Breewayy Warriors combined with his activism for police reform demonstrates an important point: public safety and criminal justice reform do not have to be mutually exclusive – they can and must be done at the same time.
Bruce is optimistic that change is possible. Breewayy Warriors continues to grow and he's already seen the positive impact it has had on the community. People have donated money, food and space for the kids to practice and families are more at ease knowing where their children are after school.
As one of four head-coaches for Breewayy Warriors, Bruce said the adults do much more than just train kids on how to play basketball. They mentor youth who struggle academically with how to develop resilient mindsets, provide them with a sense of community and offer them opportunities to build long-lasting relationships and leadership skills.
While Bruce strives to be a role model and positive influence, he said it's actually the kids in his program who've made the biggest impact on his life. He says they've helped him settle into his new role as a community leader working to create a better future for the next generation.
"It's made me a better man," he said.
"I hope it teaches the kids that there is always a better way in life."
I hope you were as moved by reading this story as I was while interviewing our client and writing it. We at The Bail Project are honored to provide a platform for our clients to share their experiences – but we are only able to do so because of the support of readers like you. If you found value in this story, please consider donating today. Every little bit helps.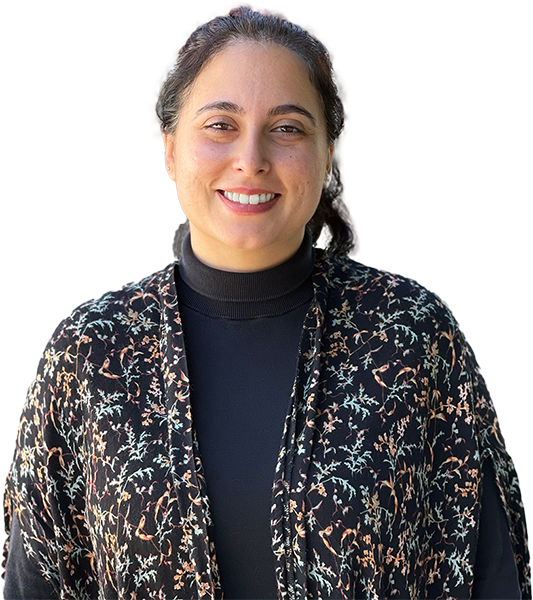 Melissa grew up in Los Angeles and attended the University of California, San Diego where she earned a Bachelor's degree in International Studies and Religion. She later moved to New York and Washington D.C., where she worked as a researcher and a reporter before going to Columbia University School of Journalism for her Master's degree. She moved back to Los Angeles in 2016 where she continued working as a reporter for several years. In her free time, you'll likely catch Melissa petting dogs, drinking wine or watching Seinfeld.